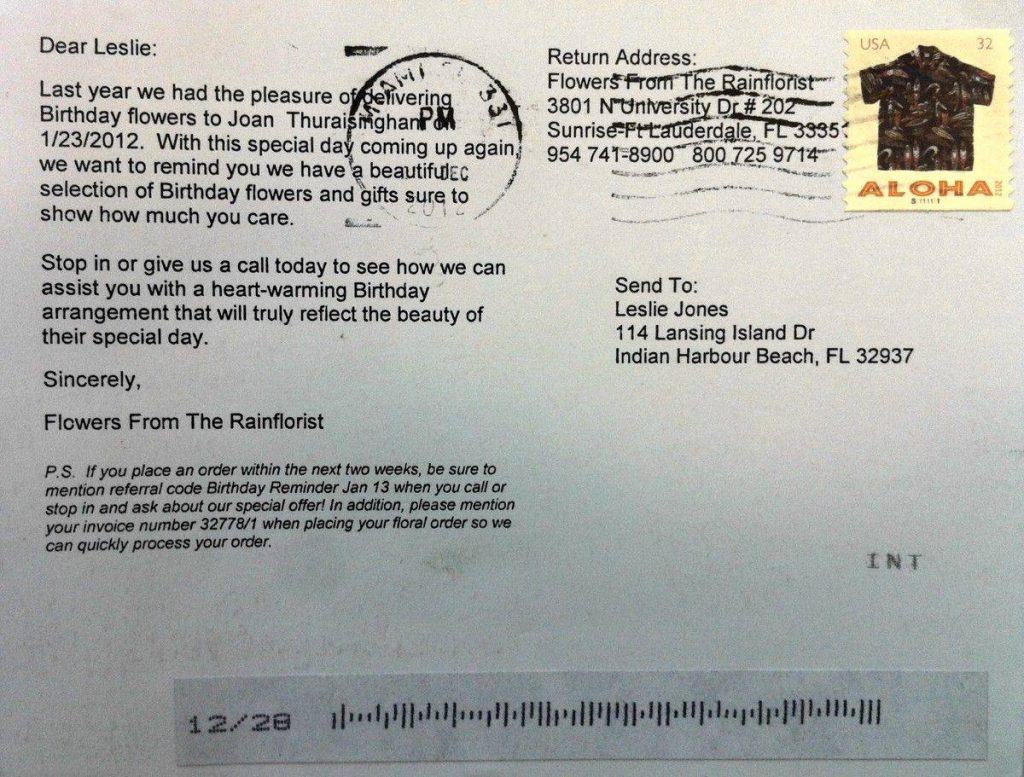 Interested in a low cost marketing investment? I am talking about one that cost no more than 50 cents and that generated 8000% ROI? Well keep reading.
Most of what you spend in marketing today, is hard to justify on a measurable return on investment calculation. Yet, I recently experienced a small investment which generated thousands of percents in real tangible return to the marketer, while driving up customer engagement and loyalty.
Don't believe me? Let me show you!
We live in Abu Dhabi, a long way from my mother who lives in The USA, with my sister. Earlier this year my wife received a postcard from a florist in Florida, which we used last year to deliver flowers to my mother. The card read:
Dear Leslie
Last year we had the pleasure of delivering Birthday flowers to Joan Thuraisingham on 1/23/2012. With this special day coming up again, we want to remind you we have a beautiful selection of Birthday flowers and gifts sure to show how much you care.
Stop in or give us a call today to see how we can assist you with a heart-warming Birthday arrangement that will truly reflect the beauty of their special day.
Sincerely,
Flowers From The Rainflorist
P.S. If you place an order within the next two weeks, be sure to mention referral code Birthday Reminder Jan 13 when you call or stop in and ask about our special offer! In addition, please mention your invoice number 32778/1 when placing your floral order so we can quickly process your order.
The florist invested no more than 50 cents in stamps, card and labor, yet generated sales of over $100 from us! If their margins are the typical 50%, then this incredible low cost marketing investment generated more than 10,000% ROI
What were the keys to this successful low cost marketing investment?
It's cheaper to sell to someone who is a repeat customer
Anniversary or refill are high probability sales events
Reminders save customers time, so there is value in that targeted pitch
A special offer was a sweetener to take action
The reference number meant that the ordering process is simple
It's cheaper to sell to someone who is a repeat customer
Please Click To Tweet
This low cost marketing pitch was so simple and yet so effective.
It was a data based approach, and this business obviously found what is valuable to us as customers. They were rewarded for their creative customer engagement.
Its amazing to me that more businesses don't use this approach to engage their customers meaningfully.
How many 50 cent low cost marketing solutions do you know that generate these kinds of returns?
You can apply this approach to your business. Maybe its an email instead of a card, but whatever you choose, at the root is figuring out how to help your customers save valuable time!
High ROI marketing programs figure out how to help customers save valuable time
Please Click To Tweet
Try it, and watch the massive returns you generate.
Copyright protected by Digiprove © 2013 Leon Shivamber