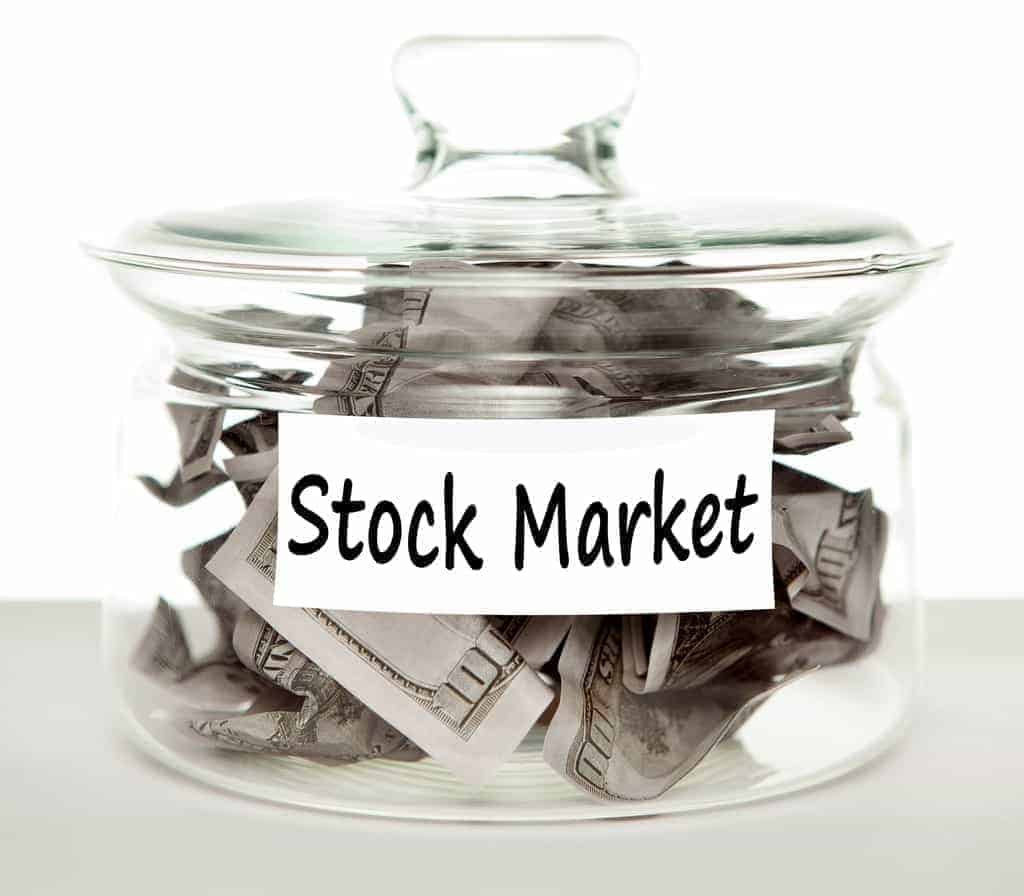 The miracle of "compound interest" has been well documented. Any investment which leverages this power can be richly rewarding if managed properly. Done poorly, one can easily create great damage to a portfolio of assets. And over the last twenty years or so I have done both.
Being the curious type, and like many personal investors, I have been on a quest to find that "holy grail" of investing, the practice, process, method, newsletter, chart or whatever, that would lead to incredible returns.
I have read voraciously, analysed, tried, tested, listened to others, and yet the holy grail remains elusive. That said, I have learned a number of important lessons along the way, which are well documented in books written by some amazing students of the market and great investors, like John Bogle, Ken Fisher, Joel Greenblatt and Benjamin Graham. I thought I should share some of these in the hope that you could avoid some of the pitfalls.
Here are some of the lessons I have learned:
Fear and Greed are hazardous to your investment returns.
Fear causes you to sell at the lowest price, while greed causes you to buy at the top. The whole idea of investing is to buy low and sell high, or buy high and sell higher, which is exactly the opposite of what fear and greed will try to motivate an investor to do. The contrarians have a great point, if you are doing what everyone is doing, then you are unlikely to get better results. To get extraordinary returns, you have to be buying when others are mostly talking about selling, and vice-versa.
If you are doing what everyone is doing, then you are unlikely to get better results.
Please Click To Tweet
You can't time the market.
You can find lots of analysis comparing returns if you buy and hold versus missing the best five days or the worst 5 days in the market.
One example is the chart below from The Big Picture which shows what happens if an investor held an investment throughout (the middle line), avoided the worst five days (the top line), or missed the best five (the bottom line).
Clearly, if one can avoid the worst five days, one will do much better than the market. Equally though, if one misses the best five days in the market, one's return is worse than the market.
The problem, is that the best and worst five days cannot be predicted. And because of Lesson 1 above, investors that try to figure out how to avoid the worst days, also end up avoiding the best days, leading to returns below the market.
I have had so many conversations with investors who will tell me how they avoided a big crash. Good for them, but luck is not a strategy. And that's just what it is "luck".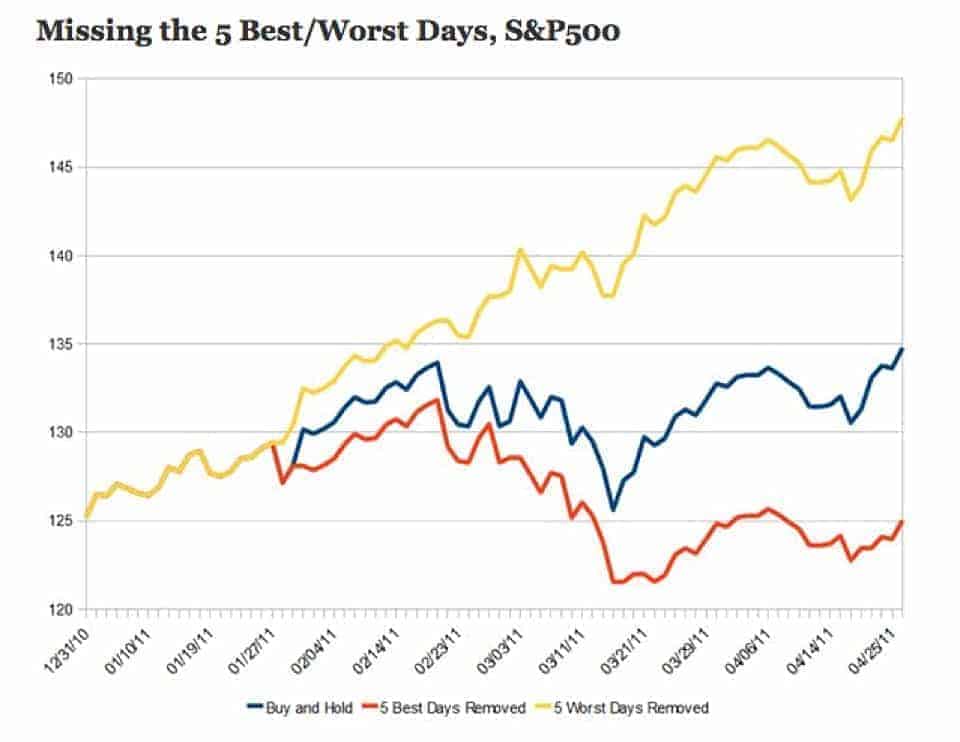 There are no "legal" approaches which consistently outperform the market.
The operative word here is consistently! It is the inconsistency of performance coupled with Lesson 1 above that conspire to make winning long-term approaches to investing turn into losers. If it sounds too good to be true, it probably is.
If it sounds too good to be true, it probably is.
Please Click To Tweet
The reality is that in order to get higher returns, one must take higher risks (the ride will be bumpier). And the bumpier the ride, the more likely an investor to get thrown off.
The ads for methods to double your money in a short period don't disclose the risks, or shoot very loosely with facts. Here is an example below that I received by email. Note the superlatives, and generous use of promises to suck you in. Sounds like the holy grail, doesn't it?
Just a few inconsistencies here. If you started with $5,000 and doubled your money 11 times, then you would have $10,240,000 not the $136,647 indicated. Let's not be too picky you say, that is still a healthy return turning $5K into $136K. What the author does not tell is whether any investor actually achieved those returns, or whether this was a backtested result. And you know the saying that "Past performance is no guarantee of future results"? They really mean that, and you should heed it.
Finally, you might think this is not such a bad deal if it is guaranteed. The reality is that this is not a guarantee against your loss. What you get back is your subscription price, which may be nowhere close to what you might lose by following bad advice.
Knowledge is valuable, but not a guarantee of good returns.
What you have to remember is that every time you buy or sell, there is a seller or buyer on the other side of the transaction who is probably spending far more time and resources studying your chosen investment than you. Maybe that investor is Warren Buffet.
That said, the failure of Noble Prize winning investors, such as Long Term Capital management, prove that sometimes being really smart does not always end up creating an advantage. Maybe their analysis was wrong, or they were too fixated on looking at the investment from one perspective and really missed something that you could see.
For me, this means that I subscribe to Peter Lynch or Warren Buffets' view that you should really invest in stuff that you understand, and preferably understand better than others.
You should really invest in stuff that you understand, and preferably understand better than others.
Click To TweetPlease
Buy and hold has a built in advantage over short term trading.
Transaction costs and taxes significantly erode investment returns. And short term trading drives both up. The more you trade, the higher the transaction costs you will incur. At the same time, short term investments (held less than a year) incur taxes at ordinary income, while investments held over a year are taxed at capital gain rates which are significantly lower.
If your annual income was $50,000 then the tax rate on short-term gains (investments held less than a year) would be approximately 25%, while a similar investment held for longer than a year would only be taxed at 15%.
If for example, you invested $1,000 and got a return of 40% in the short term, instead of keeping $400, you would be left with $300 (after paying 25% taxes on the gain). The effect is that your 40% return before taxes shrinks to 30% after taxes.
On the other hand, if this investment was held for more than a year, you would keep $340 (after paying 15% taxes on gain). Your 40% shrinks because of taxes but only to 34% if it is long term.
To get the same return after taxes, as a long term investment (say the 34% in this example), your short term investment must have much higher pre-tax returns (in this case approximately 45% pre-tax, instead of 40%). The short term investment must be 13% higher before taxes than the longer term investment to generate the same after tax return. The break-even gap gets even bigger if your income is higher of course (see table below).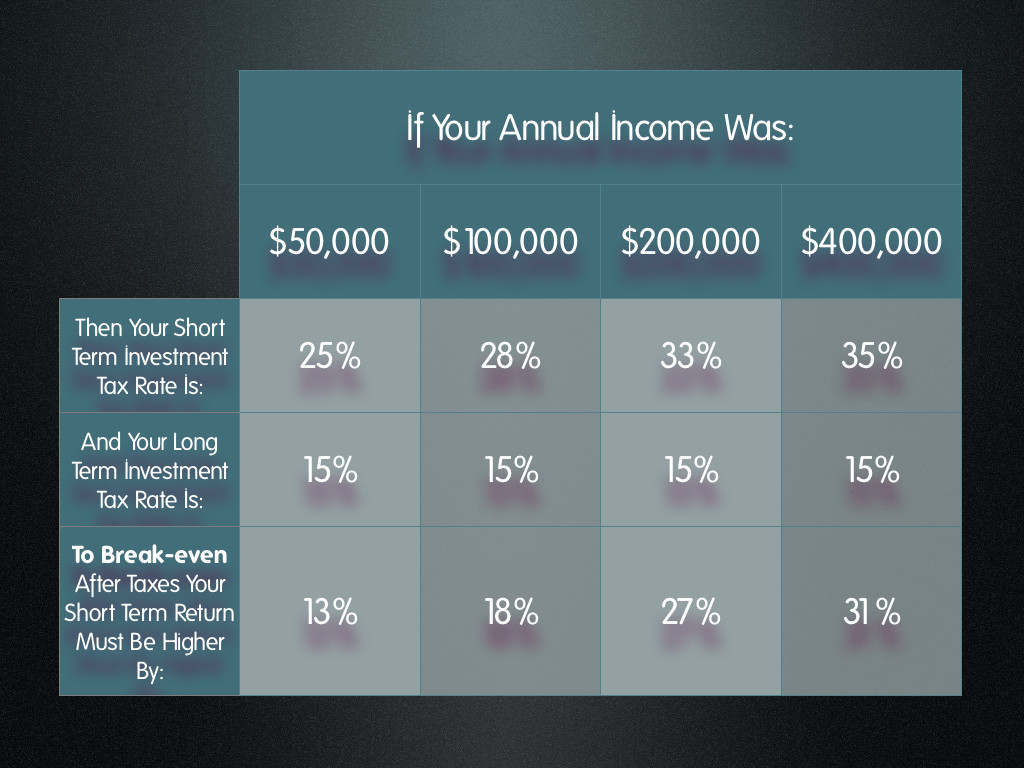 There is a way to consistently beat the average investor, but most people will not follow it.
Please note that I said "the average investor", not the market.
Incredibly, investing in market Indexes can lead to better returns than that achieved by the average investor, amateur or professional. so why don't more investors use indexing? Because apparently just achieving market returns is not good enough, because it is too boring, because the lure of promises that will result in market beating performance is too hard to resist?
Investing in market Indexes can lead to better returns than that achieved by the average investor, amateur or professional.
Please Click To Tweet
Whatever the reason, many investors prefer an approach which is less tax-efficient, incurs more transaction costs, and delivers lower returns.
For me, boring tax efficient, returns that keep up with the market are just fine!
Would love to hear about your investment experience and lessons learned!
We are sorry that this post was not so useful for you!
I can use your guidance!
Will you share with me how I can improve this post?